KARIN KNEISSL
NEWS
Surviving assassination attempts and being kidnapped by Carlos the Jackal: The extraordinary life of the oil man who was Mr OPEC
The EU's eye-wateringly expensive Covid-19 rescue plan is likely to only widen the trench between North and South
Nord Stream 2: Geopolitics, economics or emotions?
Netfonds 2020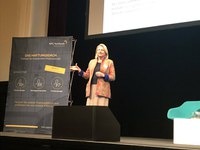 On the occasion of the annual opening by Netfonds in Hamburg  on February 28/29, I lectured on "Geopolitics - the new catchword by the EU and the old strategy by superpowers, What does it mean for the automotive industry?" Chris Hammer and his team have made Netfonds an important forum for investors in Germany. What an impressive developments since my last attendance in February 2017.
The West turns its back on the Western Balkans
In January 2020 Karin Kneissl took part in a roundtable discussion, traditionally organised by the Institute for Strategic Solutions (ISR) in Ljubljana. She believes that bilateral talks will weigh on multilateralism in the future, meaning that both the world and Southeastern Europe will increasingly return to the old rails of classic bilateral diplomacy. "Southeastern Europe has been and remains a theater of great foreign powers," said Dr. Karin Kneissl.
Adriatic Journal 9 January 2020
Dialogue of Continents
Karin Kneissl will attend the session on multilateralism at the Dialogue of Continents, she will focus on the decline in diplomatic craft.