NEWS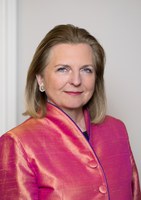 Karin Kneissl served from  Dec 18th 2017 to June 4th 2019 as Minister of Foreign Affairs of the Republic of Austria.
The government was voted out of office on May 27th by a non-confidence vote by the Social Democrats, the Freedom Party and the Liste Jetzt, it was replaced by a technocrat government on June 4th 2019.
NEWS
Dialogue of Continents
Karin Kneissl will attend the session on multilateralism at the Dialogue of Continents, she will focus on the decline in diplomatic craft.