2021
2021
Rosneft
In June 2021 elected as independent director of the board of Rosneft.
The election of Karin Kneissl as independent director in the Board of Directors received strong international media coverage
New director says Rosneft has exploration cost advantage
Neue "Rosneft"-Aufsichtsrätin Karin Kneissl: Endlich Frau in Spitzenamt eines Erdöl-Weltkonzerns
'The situation is very ambiguous' - Karin Kneissl on Nord Stream 2 and Western sanctions
rt.com, 13.12.2021, youtube
The entente not so cordiale: Anglo-French relations are at their lowest ebb for decades thanks to Brexit
From rivalry to partnership and back to conflict: the Anglo-French relationship.
Karin Kneissl: EU energy crisis is homemade, thanks to fixation on climate change while ignoring other aspects
The many reasons for the current energy price crisis: it is home-made.
Russia end the Oriental Question revisited
le monde essay, Cercle Diplomatique 2/2021, pdf
Karin Kneissl: Solutions to the Palestinian-Israeli conflict have been known for decades
Karin Kneissl: Are sanctions the sharp sword of a strong foreign policy, or a sign of weakness?
Karin Kneissl: Jordan's royal dynasty is volatile, but it's a matter for Jordanians to solve themselves
Karin Kneissl: The US and Saudi Arabia have always had a messy alliance. How much is Biden prepared to shake it up?
The new Middle Eastern normal
Le Monde Essay, Cercle Diplomatique 1/2021
Karin Kneissl's comment on the visit by EU High Repräsentative Josep Borrell to Moscow on Febr. 5th, 2021
Arabian slights: How a deepfake video caused a rift in the Arab world and led to a three-year blockade of Qatar
Having followed the Qatar crisis for years some thoughts on the deep rift and some possible developments
Interview
The Arabic programme of RT conducted an interview with Karin Kneissl about diplomacy, current topics and why I appreciate the Arabic language
France-Turkey naval clash: Proxy war in Libya enters a new stage
Staying grounded or crashing and burning? The airline industry is facing the worst crisis in its history
New Book out now: "DIPLOMATIE MACHT GESCHICHTE"
ISPD+ Innovation in Diplomacy recommends the book
'Nothing new' in saying EU can't rely on American defense, but it is still needed – Austria's ex-foreign minister to RT
RT interview on a European army July 15th, 2020
Surviving assassination attempts and being kidnapped by Carlos the Jackal: The extraordinary life of the oil man who was Mr OPEC
The EU's eye-wateringly expensive Covid-19 rescue plan is likely to only widen the trench between North and South
Nord Stream 2: Geopolitics, economics or emotions?
Netfonds 2020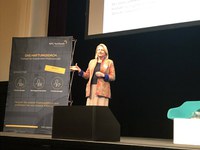 On the occasion of the annual opening by Netfonds in Hamburg  on February 28/29, I lectured on "Geopolitics - the new catchword by the EU and the old strategy by superpowers, What does it mean for the automotive industry?" Chris Hammer and his team have made Netfonds an important forum for investors in Germany. What an impressive developments since my last attendance in February 2017.
The West turns its back on the Western Balkans
In January 2020 Karin Kneissl took part in a roundtable discussion, traditionally organised by the Institute for Strategic Solutions (ISR) in Ljubljana. She believes that bilateral talks will weigh on multilateralism in the future, meaning that both the world and Southeastern Europe will increasingly return to the old rails of classic bilateral diplomacy. "Southeastern Europe has been and remains a theater of great foreign powers," said Dr. Karin Kneissl.
Adriatic Journal 9 January 2020
Dialogue of Continents
Karin Kneissl will attend the session on multilateralism at the Dialogue of Continents, she will focus on the decline in diplomatic craft.